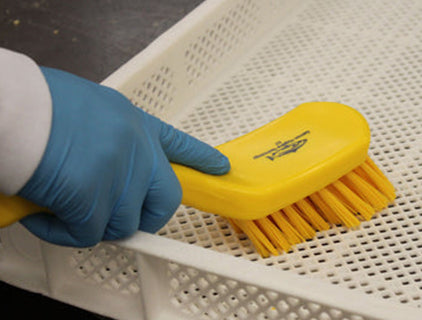 About Us
24h online store with industrial cleaning, mixing and handling equipment for the Food & Pharmaceutical Industry.
Worldwide Food safety concerns have risen dramatically over the last decade due to the severe consequences of foodborne diseases. We at Atesco encourage our customers to understand some of the hazards along the food chain - giving us the possibility to apply effective procedures, standards, regulations or programs, which will help eliminate/avoid foodborne diseases. Safe food will only be guaranteed when all actions in the whole food chain are covered, i.e. "from stable to table" or simply speaking "Biosecurity."
See how we do things as well as the products & services we offer
We work and manufacture on-site! All of our shadow boards are made in-house with production in full swing at our facility.
We design customized boards and carry a wide variety of products cleaning equipment, production tool, and everything in between to manage the backend of your restaurant and its operations. From signage to cleaning supplies and organizational products, we are your one-stop shop!